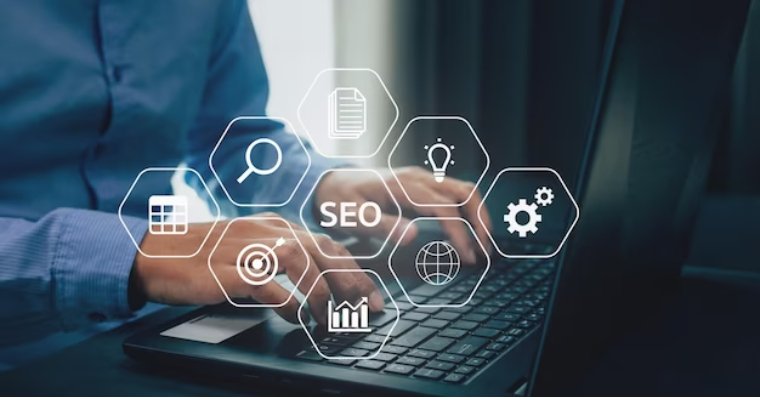 Search engines start 68% of internet experiences, says BrightEdge. Thus, SEO is essential for website visibility and traffic. However, some ignored SEO Optimization measures may negatively impact your website's ranking. Therefore, we should discuss your website's SEO mistakes right here in this blog.
Let's Elevate Your SEO Ranking Game with These Tips
It's time to boost your website's SEO ranking and brand visibility. Keep your material updated and track your success with analytics.
Keyword Research: Think Like a Human, Seek Like a User
Moz says 8% of search inquiries are questions. Instead of focusing on industrial jargon or technical terminology, keyword research should explore how consumers communicate and ask queries. Long-tail keywords and conversational language in content can also catch question-based search searches. Thus, keyword research and the use of relevant long-tail keywords in your content strategy will boost exposure and attract potential clients looking for answers.
Build Mobile-Friendly Websites
The mobile-first index requires us to optimize our pages for mobile display.
The good news is that a desktop copy will still be indexed and placed under the mobile index if a mobile-friendly copy does not exist. Your ranks may suffer. Responsive web design may automatically make your website mobile-friendly. All you have to do is work on: Content perspective meta tag, CSS/JS minification, AMP cache tagging, and Optimizing and compressing photos for faster loading. In addition, minimising on-page UI components.
Google Ranks Events by Popularity
Another Google patent suggests that the search engine will rank events by popularity rather than inbound links. This invention is based on the premise that multiple events can occur in the same area or at the same time, making it hard for interested parties to choose one. The big G will get event data and signal scores for a particular period. Likewise, other patent-based events ranking indications include: Creating an initial ranking of events based on popularity scores; computing a modified popularity score for each event based on the initial ranking; ranking events occurring in the physical location according to the modified popularity ratings.
40% Prefer Infographics to Text
Not only do infographics simplify complex information, but they also make it more engaging. With their use of eye-catching visuals and bold graphics, infographics can help to capture and retain the attention of your audience, ultimately leading to longer site dwell times and improved search engine rankings.
But that's not all – infographics can also help you to repurpose existing content. By taking data and statistics from an article or report, and presenting them in a visually appealing infographic, you can breathe new life into old content, reaching a wider audience and driving more traffic to your site.
Remove Duplicates
Duplicate content slows crawling and uses up crawl money.
Blocking certain pages from being indexed or adding a canonical tag to the page you want to be indexed can solve these issues.
To avoid search engines perceiving similar pages as duplicate material, improve meta tags for each page.
Every Brand Starts Being a Local Business, Opt for Local SEO First
Did you know that 46% of all Google searches are looking for local information? As a brand, it's important to remember that every successful business starts locally. That's why opting for Local SEO should be a priority. By optimizing your website for local search, you can ensure that your business is visible to potential customers in your area, ultimately leading to increased foot traffic and sales. So don't underestimate the power of Local SEO – it's the first step towards building a successful brand. Local searches turn clicks into purchases well. Searchers in one location are more likely to buy something. Local SEO is easier for small businesses. Local keywords have less competition than global keywords.
50% of Internet Traffic is Mobile
SEO data shows that if a website is not responsive or loads slowly, users are likely to abandon the site. 43% of website visitors leave after experiencing access issues. This can have a significant impact on a business's search engine ranking since search engines prioritize user experience. If a website has a high bounce rate due to access issues, it will signal to search engines that the website is not providing a satisfactory user experience, resulting in a lower search engine ranking.
Fifty Percent of 2020 Searches Were Voice-Activated
Over the past decade, AI has progressed, making voice search more accurate. Companies that don't modify their SEO approach won't survive. Voice search is fast for 70% of individuals.
A 2019 survey explored why individuals like voice instructions. The main motivation was speed—speaking into your phone is faster than typing a query onto your browser. Voice search was also liked for accuracy and no typing.
Repurposing Material Saves on Content Marketing
Search engine marketing statistics demonstrate that a diverse content mix boosts rankings. Content marketing requires lots of content. Reusing content helps. Update, expand, or format previous information. Create a podcast or video from a blog article. 54% of bloggers use two or more photos to engage readers.
Google Search Results Average Less Than A Minute
Google has trillions of results, but most of us want one or two in seconds. Hence, two important takeaways for firms using Google for referrals. As a result, the ranking comes first. People click on the first results on that results page. Second, your headline for text searches must be clickable, and your image for image searches must be high-quality.
Beyond Keywords: The Surprising On-Page Element That Dominates SEO Rankings
According to a study by Backlinko, content relevance and quality are the most important on-page SEO factors, with web pages that rank in the top 3 search engine results having an average content length of 2,000 words.
Which on page element carries the most weight for SEO? There is one element that carries the most weight: content. High-quality content with relevant keywords and topics is the backbone of any successful SEO strategy. This is why it's better to keep an off page seo checklist.
But it's not just about on-page optimization. Off-page SEO is equally important and should not be overlooked. An off-page SEO checklist should include tactics such as link building, social media engagement, and influencer outreach to improve your website's authority and relevance.
If you don't have the time or expertise to handle off-page SEO yourself, consider outsourcing to off-page SEO services. These services can help you to develop and execute comprehensive off page seo services and strategy that drives traffic and boosts your search engine rankings.
In a Nutshell
In conclusion, SEO is a crucial element in today's competitive market, and businesses must keep up with the latest advances to stay ahead of the game. By implementing effective SEO strategies such as optimizing for mobile devices, using long-tail keywords, creating high-quality content, improving website speed, and building high-quality backlinks, businesses can boost their traffic and SERP ranking.
And Techsharks, a leading SEO company, can help businesses achieve their SEO goals by providing a comprehensive range of services tailored to their unique needs. With their expertise, businesses can expect to see a significant improvement in their website's visibility, traffic, and ultimately, their bottom line. By partnering with Techsharks, businesses can focus on their core operations while leaving SEO to the experts.