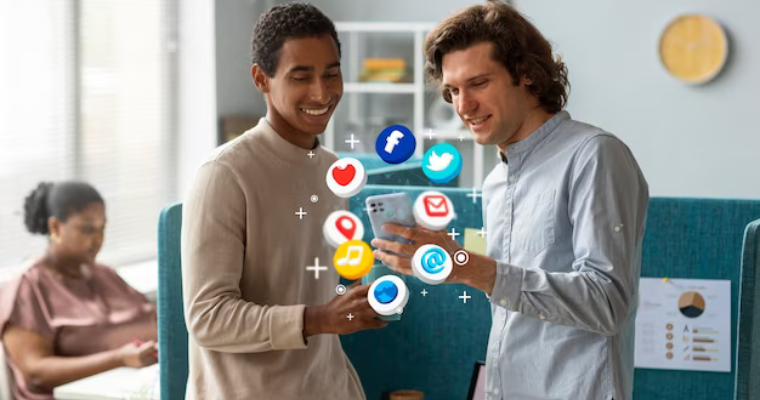 Although social media has many benefits for organizations, it can quickly become a time and energy sink if you're not careful. Making social media use for your company requires formulating a plan that reflects your core beliefs and sticking to it. In this blog, we will discuss everything you need to know. Let's dive in.
7 Things To Look Out for in Social Media
If you want to make sure your social media is up to par, here are seven things you can do right now:
Digital Engagement With Eye-Catchy Visuals
Involvement in the Digital World through Appealing Images Images is a fantastic attention-getter on social media. This is because the human brain finds images easier to process and retain than words. Hubspot found that compared to tweets without images, those with images result in 18% more clicks. In addition, 89% more favourites, and 150% more retweets. If you want your social media postings to get more attention, you should include high-quality photographs and videos. Visuals, whether they be photos of your products, glimpses behind the scenes at your company, or infographics explaining a complicated concept, may set you apart from the crowd and increase interaction.
Refrain From Ignoring Critical Comments
The public nature and high visibility of negative comments made on social media might make them particularly difficult to address. However, avoiding criticism is not the answer. Instead, make sure to reply to any criticism with grace and professionalism. Respond sympathetically to the customer's worries and do your best to help them. Responding positively to client complaints demonstrates that you value them and want to make their experience a good one. This might strengthen your reputation and earn the respect of your target market.
Work Together With Internet Influencers
People who have built up a sizable following on social media can be hired to spread the word about certain products. They aren't necessarily well-known, but their fans have enough faith in them to buy from them anyhow. Social media influencers' impact on youth is undeniable.
Young people look to social media influencers for guidance on how to find their voice and find acceptance in their peer group. When people witness someone they look up to utilizing a product that is novel or different from the norm, it makes them want to try it out for themselves. One effective strategy for expanding your reach and generating more engagement on social media is to team up with influential users in your niche. But pick the proper influencers whose values and interests coincide with your brand's.
Follow the Most Recent Developments and Updates
Keep up with the newest features and developments on various social media sites, as they are always being updated. Instagram has released a new tool called Reels, which lets users make 15-second-long movies. Your social media approach will continue to be successful if you keep up with these shifts. Following thought leaders and influencers in your field on social media can help you remain abreast of the newest developments.
To Know Your Audience, Use Social Listening
You may learn a lot about your target audience and the topics they find most interesting and relevant. Likewise, know how to use this data to shape your social media approach and produce more engaging posts. You can spread the word about your company using any number of available channels. Among these are advertisements on Facebook (Facebook).
– Promotional Tweets (Twitter)
– The Ads on LinkedIn (LinkedIn).
– Think about who you want to target. Likewise, how much money you have to spend before deciding on an advertising platform.
Make Your Content Work Better on Every Platform
There are many ways to interact with Facebook users: By updating their statuses with text, Posting articles and videos to the News Feed, and organizing meetups and other social gatherings
Facebook beginners are better off sticking to textual status updates until they build a following. After you've built up a following and people are engaging with your content, you can start playing around with things like links and videos. Live video streaming is another option to interact with your audience in real-time and update them on relevant information (like "We're having an office party tonight!").
You Can Track Your Progress With Analytics
How many people are responding to your posts with likes, comments, shares, and other actions is your engagement rate, and it's a vital number to monitor. Your content is engaging with your audience if you have a high engagement rate, which can lead to increased brand recognition and loyalty. The increase in the number of individuals who follow your brand on social media is an indicator of their interest in your brand and their willingness to engage with it. You may observe how many visitors are coming to your site from different social media platforms and which pages they're seeing by utilizing UTM parameters or other tracking tools.
Role of Social Media Executives & Social Media Intern
While the above points are necessary, campaign development and management are under the purview of the social media executive. Developing a unified tone for your brand's communications, Making a material that people will want to read, and Using the appropriate hashtags and phrases to increase your visibility in social media searches. Meanwhile, the role of social media intern is a bit different yet similar which includes: Strategizing, Setting objectives, knowing the core of your audience, Planning your content approach, Evaluating Your improvement level, Website traffic monitoring, and Metrics of participation analysis. In addition, Take Care of Your Social Media Accounts, Develop a unified tone, and Prepare ahead of time for posting. Lastly, reacting to people's feedback and communications.
To Sum Up
If you want your material to be shared as far as possible online, you should review your findings. Discover what's working best for you as a business owner. People are more inclined to occasionally follow you on social media sites like Twitter and Facebook. If they see you actively engaging on the platform, there is a chance of gaining followers. This is also true for Instagram. Lastly, opt for professional service from a reliable social media marketing company like Techsharks. This company has a skilled team of digital marketers to make the whole process smooth like butter.